How to create a one-page website (landing page) for sales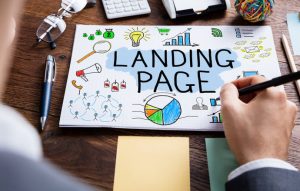 A one-page site, also known as landing, is a popular way of selling a product or service on the Internet. For each product or service is a separate page with all the necessary data – this is the main sales rule. Accordingly, the page should be attractive, functional – in general, selling.
What should be a one-page site?
There is no perfect landing, but you still need to strive for perfection. A well-designed one-page site should contain the following blocks:
Header with a logo, a unique sales offer and contact information with a bright button to order a callback.
A detailed description of the proposal with the possible addition of bonuses (order right now and get a gift).
The scheme of work with customers (ordered – paid – received).
Problems that solves the purchase of goods or services.
Stories and reviews from customers, how they were helped by a product or service.
A one-page site should contain photos. If the capabilities of the product or service can be shown, insert a video. The order button must be placed so that the visitor can at any time proceed to checkout or other useful action.
These are all basic elements of a one-page site, but you can come up with a different structure. The main thing in Landing – constant testing and improvement. Therefore, to create a one-page site, you need to select simple tools that you can master in a short time.
Creating a one-page landing page in the constructor
Landing Tools
Knowing what should be a one-page site, and what functions to perform, you can easily choose the appropriate tool to create it. There are several options:
A self-written site is the most difficult way, requiring knowledge of programming languages ​​and the presence of web developer skills.
CMS is a working method even for beginners, however, the engines offer the power of functionality that is simply not needed for building landing pages. In addition, not all CMS have the opportunity to make a good one-page.
Website designers are the best option for webmasters who want to quickly build several landing pages for various products and services.
Landing can be drawn in graphic editors, focused on creating sites, but to achieve a positive result will require the skills of a web designer. Without them, it is difficult to create something attractive and functional from a clean slate.
Designers are good because they offer ready-made templates for one-page sites and tools for editing them. You also work in the editor, but it is much easier than graphical programs. The result also looks no worse, and sometimes much better: templates for designers are developed by web designers, while the limitations set by the developers do not spoil them.
Creating a landing page on the constructor
You can use universal constructors (uCoz, Wix) or specialized (uKit, LPgenerator) services to create landing pages. The difference between them is significant – this concerns both the functionality and the cost of the tariff. But all designers are united by the simplicity of creating and customizing a one-page website in a visual editor.
uKit.com – Landing Designer for Business
Not all universal designers offer the creation of landing pages, so before you register, be sure to read the reviews of services. If the constructor provides such an opportunity, then in the list of blocks and widgets you will find all the necessary elements:
Dedicated header.
Text fields.
Callback form.
Photos and videos.
Cards with reviews.
Order button.
Contact fields, etc.
You just have to edit the template and add the necessary widgets and blocks to it.